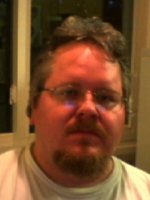 http:// jms1.net /
jms1.net
Apparently my beard is famous!
Instead of having a bunch of content on this page, I've decided to use this "index page" as an actual index of the content which is available here, or which may be available in other places and I think it's worth mentioning here.
Note
In January 2014 I had to migrate my web sites to a new server. At the same time, I have made all of the ".jms1.net" web sites only work when viewed using HTTPS.
The qmail stuff...
... has all been moved to a separate web site, https://qmail.jms1.net/. This includes the following items which used to be on this web site:

If you found this page by following a link on some other qmail-related web site, or by reading somebody's email message, please inform the author of that site or email that the qmail stuff has been moved.
Other frequently visited pages
Mac Stuff
Other useful pages
https://www.jms1.net/jabberd2/ has a better explanation of how to run multiple "domains" on a single jabberd-2 server. The documentation which comes with the software, and on the web site, doesn't explain this very clearly.

For those who may want to contact me using Jabber, my Jabber ID is made up of two parts- the first part is (obviously) "jms1", and the second part is (probably even more obviously) the same as the userid, with a dot and the word "net" after it... just like the domain name of the web site you're reading right now. (Doesn't it suck how spammers are preventing me from just putting the address directly on the web site? It happens to be the same as my primary email address, and I have no interest in receiving any more spam than I already do.)

https://www.jms1.net/svn-trac.shtml details how I set up a subversion repository with a "trac" web interface on my server. I've recently "seen the light" when it comes to source code revision control, as the page will explain. (added 2008-04-23)

https://www.jms1.net/grub-raid-1.shtml explains how to install the grub bootloader to both drives of a Linux software RAID-1 (i.e. "mdraid".)

https://jms1.net/Using-WKD-to-Publish-GPG-Public-Keys.md is a quick explanation of how to use Web Key Directory, or WKD, to publish PGP public keys on a web server, in a way which allows the `gpg` command to automatically find them, based on the email address.
Good Guys and Bad Guys
(my war stories)
Random Stuff
http://www.abelard.org/e-f-russell.htm is a short story called "And Then There Were None" by E.F. Russell, which gives a very good description of what the word "anarchy" really means. Not quite what I thought when I was in high school listening to Dead Kennedys tapes, but still an interesting concept.
Archives
---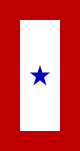 Service Flags
I am proud to tell people that my brother is serving in the US Army. He has done three deployments (each a year long or longer) to Iraq, as a helicopter crew chief with a "medevac" company, and has since transferred to another unit.
I am also proud to display the Service Flag on my web site, on my car, and in the front window of my home.
In addition, I have prepared a set of flag graphics like the one you see here, which may be used on any web site or other publication to show pride for your family members in the service.
And for anybody with a chip on their shoulder like this idiot, let me make it very clear that I support MY BROTHER, and I respect him for doing the best job he can in a difficult situation, although I don't believe that the USA has any legitimate reason to be in Iraq in the first place. I honestly believe that the whole "war in Iraq" is nothing but an excuse for the oil companies to take the Iraqi oil, as well as the contracts to rebuild the infrastructure (wells, refineries, pipelines, etc.) which we destroyed in the first place. Do you really think it's just a coincidence that the current President and Vice President just happen to be "oil men" themselves?
It's also a way for the Federal Reserve (a privately owned bank which exists only to loan money to the US Treasury) to force Congress to borrow more and more money to pay for this so-called war (no, not "war", let's call it what it really is- the invasion and subsequent occupation of Iraq.) Think about it, where do you think the billions of dollars they keep spending on the "war" every day are coming from? Taxes haven't gone up by much, so seriously- where are they getting the money? Answer: they're borrowing it from the Fed, and expecting our children, grandchildren and great-grandchildren to pay it back thirty years from now. This is the model used by every "central bank" on the planet, all modeled after the Bank of England.
At the risk of using a "Forrest Gump" cliché, That's all I have to say about that. Please don't email me to argue about this, or to say anything about my brother for doing his duty and following orders... it's getting really old. If you truly believe you know better than me, then DO SOMETHING about it. Contact your elected officials and work through them to stop the madness. Or maybe join the Army yourself- THEN you might have some idea what my brother is going through, and MAYBE you'll have some credibility with me... but arguing with me isn't going to change anything.
---